Exhibitions
On the other hand
50 years of lace education at the Academy
In 2023, the lace department of the Municipal Academy of Fine Arts will celebrate its fiftieth anniversary. From April 29 to September 10, the students will take over a room of the Taxandria Museum to demonstrate that bobbin lace developed into a creative and innovative art form during that period.
History
Since the beginning of the 17th century people have been making bobbin lace in Turnhout. Different variants developed from the Old Flemish lace technique, all of which were practiced in our city.
In the 19th century, the great demand for high-quality lace led to the establishment of lace schools and workshops where children learned the handicraft from experienced lace makers. They worked for a lace office or trader and thus helped to increase the family income. The dealers sold the pieces to larger offices in Antwerp, Ghent and Brussels so that the Turnhout lace was widely distributed, also internationally.
After the Second World War, the demand for lace fell sharply and the lace schools closed their doors. In 1972, the Municipal Academy of Fine Arts expanded its range with a lace department. This is how lace work evolved from labour to hobby.
Academy
Inge Deleu teaches all possible lace methods at the Turnhout academy. Based on these basic techniques, the students are encouraged to creatively experiment with materials: bobbin thread, linen, metal thread, even three-dimensional. They draw and make their own designs based on feeling. The results are therefore very diverse: from a silhouette to a triptych to a tree trunk with lace.
With 'On the other hand', the students of the academy prove that the lace craft of yesteryear has evolved over fifty years into a textile art form that is gaining more and more popularity.
With work from
• Elke Vandormael
• Fabienne Goetschalckx
• Griet Van Nijlen
• Linda Esch
• Lutgart Van Nevel
• Marie Thérèse Ameloot
• Peter Maes
• Sabine Van Heupen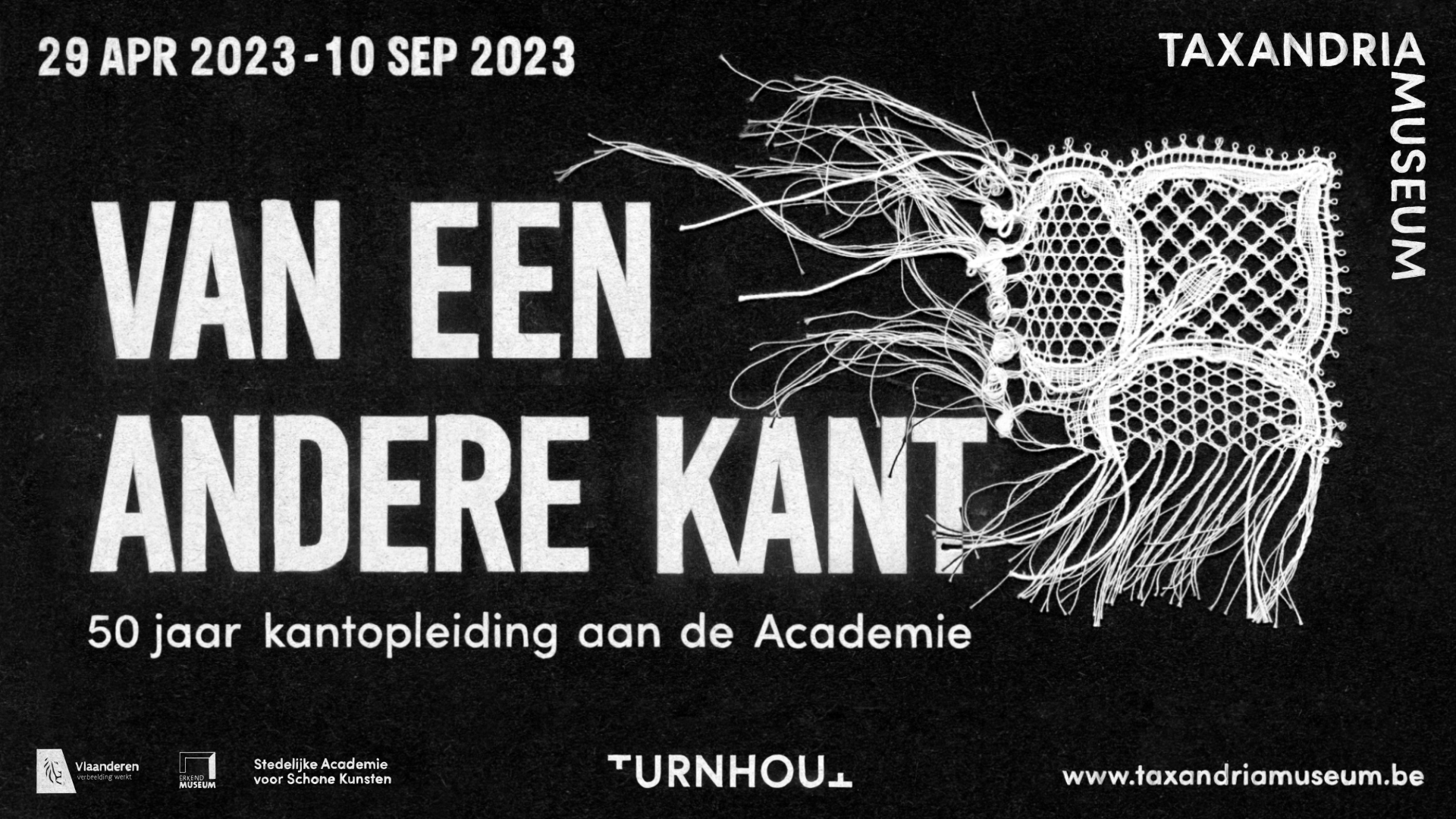 Former exhibitions
Jozef Schellekens
October 7th 2022 till May 14th 2023
Turnhout resident Jozef Schellekens (1909 – 1963) is regarded as an icon of modernist architecture in the Campine. For a period he was a teacher and director of the Municipal Academy, later provincial architect. Less known is that he was also a visual artist. Schellekens was inspired by various innovative art movements in the 1920s and 1930s and eagerly experimented with them. He made portraits in various techniques (with pencil, charcoal, paint), but also abstract creations and graphic art. In his modernist house (Steenweg op Mol 64-66 in Turnhout) he made several murals, one of which has survived. Family life played a major role in his art. After the death of his wife Mietje Vogels in 1942, he mainly painted and drew portraits of his children. Two of these are presented: a painting of his eldest daughter Mia (1935-1980) and a pencil drawing of his second daughter Lydia (1936-2021).
The "Friends of the Taxandria Museum" bought seven representative works by Jozef Schellekens and donated them to the museum. They can now be admired there temporarily as an introduction to his varied oeuvre. On the advice of grandson Luc Vanhout (an architect himself), the new frames got the same colour as the main colour in the works.
Passage - Campine art now
Until August 29 2022
Until August 29th 2022, thirteen contemporary Campine artists exhibit in the Taxandria Museum in Turnhout. They individually respond to the theme of one museum room and give it an original interpretation through their background, working method and choice of materials.
For a long time, the Campine has been characterized as a borderland, with poor agricultural soil and a rigid (farming) population. However, the isolation and pristine nature attracted artists to capture idyllic scenes undisturbed. In its permanent display, the Taxandria Museum offers a broad overview of this 19th- and 20th-century (painting) art.
Now, in 2021, the region has become a lot more contemporary, but fortunately the Campine soil is still a breeding ground for artistic creativity. With the temporary exhibition 'Passage', the museum offers a picture of the contemporary Campine art landscape. Variation was the key word in the selection of the artists: in age, gender, fame and technique. As a result, various art forms are passing in review: from sculpture to painting, from lace to photography, from cartoon drawing to animation.
'Passage' allows thirteen artists individually to break into one room of the museum. The creatives connect with the theme and give it an original, personal interpretation thanks to their background, working method and choice of materials. The result is an interesting dynamic, also between the different artists. The exhibition offers a special route through the entire museum. Let the artists take you into their perception, their world and their stories.

The participating artists are:

• Bob Roes, painter
• Freddy Van Dyck, draftsman, sculptor, painter
• Hanna van Dun, visual artist
• Inge Deleu, contemporary lace maker
• Jaak Hillen, sculptor
• Juan Monte, photographer
• Katrin Dekoninck, visual artist, animation
• Nest Onzea, visual artist
• Peter Snijder, light artist
• Ronny Broeckx, painter
• Stef Janssens, cartoonist
• Tom De Doncker, draftsman, tattoo artist
• Tijs van Nieuwenhuysen, visual artist

Curator: Jenny Van Gimst
The Taxandria Museum portrays the history of the Antwerp Campine and presents historical figures such as a tower keeper, an archaeologist and even… a deer! Listen to their stories and enjoy the rich (art) collection.