Hand-loom Power-loom
Nosing around in a Kemper wardrobe
Until the end of December, 2019 the Taxandriamuseum is putting on an exhibition entitled 'Hand-loom Power-loom – Nosing around in a Campine wardrobe.' The exhibition shows a variety of types and styles of costumes and materials, spread over different rooms in the museum, each with a different theme.
Pieces which have never been shown before are on display. The hunting room, for example, contains clothing worn by foresters and hunters. Another room with the theme 'location and development of the Kempen', tells of the central role that Turnhout played in the manufacture and sale of clothing. Since the 19th century, all kinds of clothes and accessories were available in the city. Some rather exotic exhibits are to be wondered at in the room with pieces considered to be collector's items.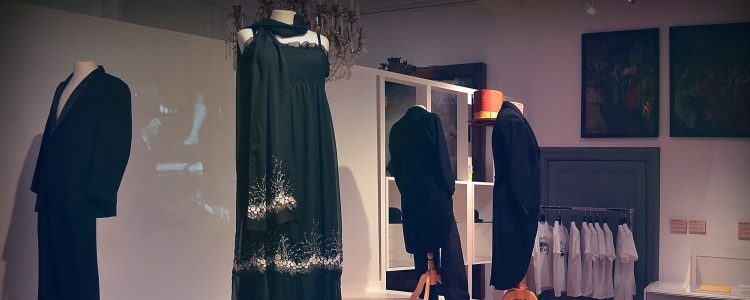 In the past, girls were taught at school how to make or restore clothes for themselves. Garments were repeatedly altered to be handed down and worn by younger children of the same family. Elbow-patches, aprons, children's clothing, christening robes and party clothes are well represented, as are everyday objects such as diapers and blankets.
The exhibition also has work from students from the fashion department of the school Helig Graf in Turnhout. Inspired by Turnhout's clothing manufacturing history, they create their own, modern designs. In the first room photography students at EduKempen show their recent work with the theme 'Materials and Clothing.'
Curator of 'Hand-loom Power-loom' is Frieda Sorber, ModeMuseum Antwerpen. She focused on the collections of Turnhout and Heemkundig Museum Tempelhof, Beerse.
Design: Atelier 20+03

Taxandriamuseum, Begijnenstraat 28, B-2300 Turnhout
+32 14 43 63 35
taxandriamuseum@turnhout.be
Facebook & Instagram: Musea Turnhout
Opening hours
Tuesday till Saturday: 2 – 5 pm / Sunday: 11 am – 5 pm
Closed on Mondays, 1-2 January, 24-31 December
Entry: EUR 5 – concessions: EUR 3 – under 18: free